Can you imagine having all your market information in a single Artificial Intelligence platform? INEFAM makes it possible for you.
Through artificial intelligence you can incorporate all your structured market information into a single artificial intelligence query platform. We are talking about consolidating all your public market audits, private market audits, pharmacy prescription audits, internal sales reports, reports from all distributors, everything and more within a single platform that allows from the Sales Representative to the General Manager or even from corporate to ask questions in natural language in different languages.
The Solution to Data Excess.
The internal sales reports, those of each distributor, the FDV card index, the INEFAM government audit, private audits, pharmacy prescription audits, consumer point-of-sale audits… it is a Herculean task to keep the uniform and useful reports updated for all internal clients of the market research areas.
It is precisely in this year 2023 that Natural Language Processing (NLP) has become a key technology that promises to revolutionize both market research and optimization in private and government sales.
Simply put, NLP implies that you DIALOGUE with databases, instead of running queries or designing complicated filters in data visualization platforms. With a deeper and more integrated implementation, you will be able to solve for example these prompts (questions) using a simple natural language:
1. Give me the sales rep's <rep name> medical visit frequency report, including his market share per brick in his route, compared to the company average, for the last 6 months.
2. Calculate the CAGR of the brand <brand name> in all routes in Guadalajara, Monterrey and CDMX, and give me the prescriptive shares of the competitor brands in the specific market of the anatomical class <anatomical class name>.
3. Give me the price evolution of the key <CNIS key>, mentioning the public institutions that have increased the price the most and the units called in failures from 2015 to 2023.
4. Among millions of additional prompts, you could also ask him to generate the PPT for you in your company's format
Predictive Analytics and Timely Trend Detection:
Adopting this new technology allows you to incorporate data modeling schemes to pose predictive scenarios, interpret for you in natural language the observed historical trends, and explain the predictions and possible trends. It allows AI to alert you to any business opportunities or threats that may arise in a pharmacy, on a route, in a region or at a national level.
Data analysis for market research:
In market research, NLP will start to play a fundamental role in the simplified analysis of large volumes of structured data, such as all the market audits and the different sources of information you use in your daily business intelligence process.
Optimization of the bid and bidding process in government sales:
In government sales, NLP has the potential to revolutionize the way companies optimize their bids and participate in bidding processes. By using automatic document processing and text analysis, NLP can help companies better understand the requirements and selection criteria of government agencies. This allows companies to tailor their proposals more accurately and improve their chances of success. In addition, NLP can help identify relevant bidding opportunities and efficiently track changes in government requirements and regulations, giving companies a competitive advantage in the highly specialized drug and medical device markets.
Improved communication and customer experience:
NLP allows non-expert users in government sales (CEO, Country Manager, Manufacturing Director, Legal Director, etc.) to finally become active users of the company's proprietary information, as their learning curve will be reduced to a minimum thanks to the advantage that complex information is reduced to simple questions in natural language.
At INEFAM we know the pharmaceutical sector from start to finish, so we can help you develop this innovative platform in record implementation times.
Check out our offer. Send us an email to
INEFAM is recognized as the best public health consulting firm in Mexico by Aquisitions International.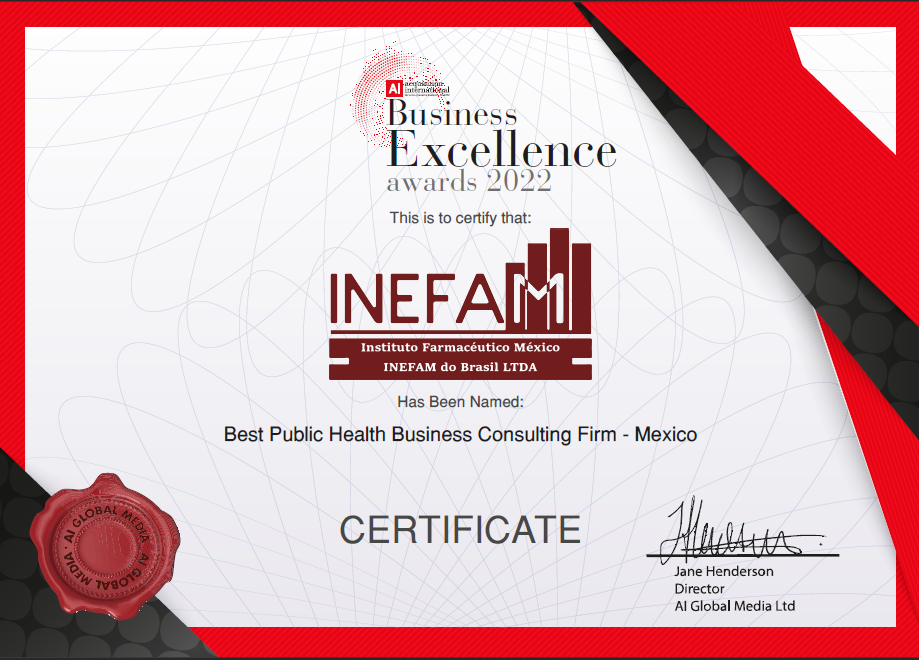 In its 2022 edition, and after a long due diligence process, INEFAM has obtained the 2022 Business Excellence Awards, recognizing INEFAM as The Best Public Health Consulting Company in Mexico.
Recognitions of this level move us to continue to be better, to offer the highest quality and auditability in our market information, as well as to grow in training, consulting and public market offerings.

Many thanks to the growing list of 70 pharmaceutical companies in Mexico, Brazil and Europe that have believed and continue to believe in us.